Trunk-or-Treat

Fall Festival 2023

Check out these important details to know before attending the free Trunk or Treat event on Oct 28th!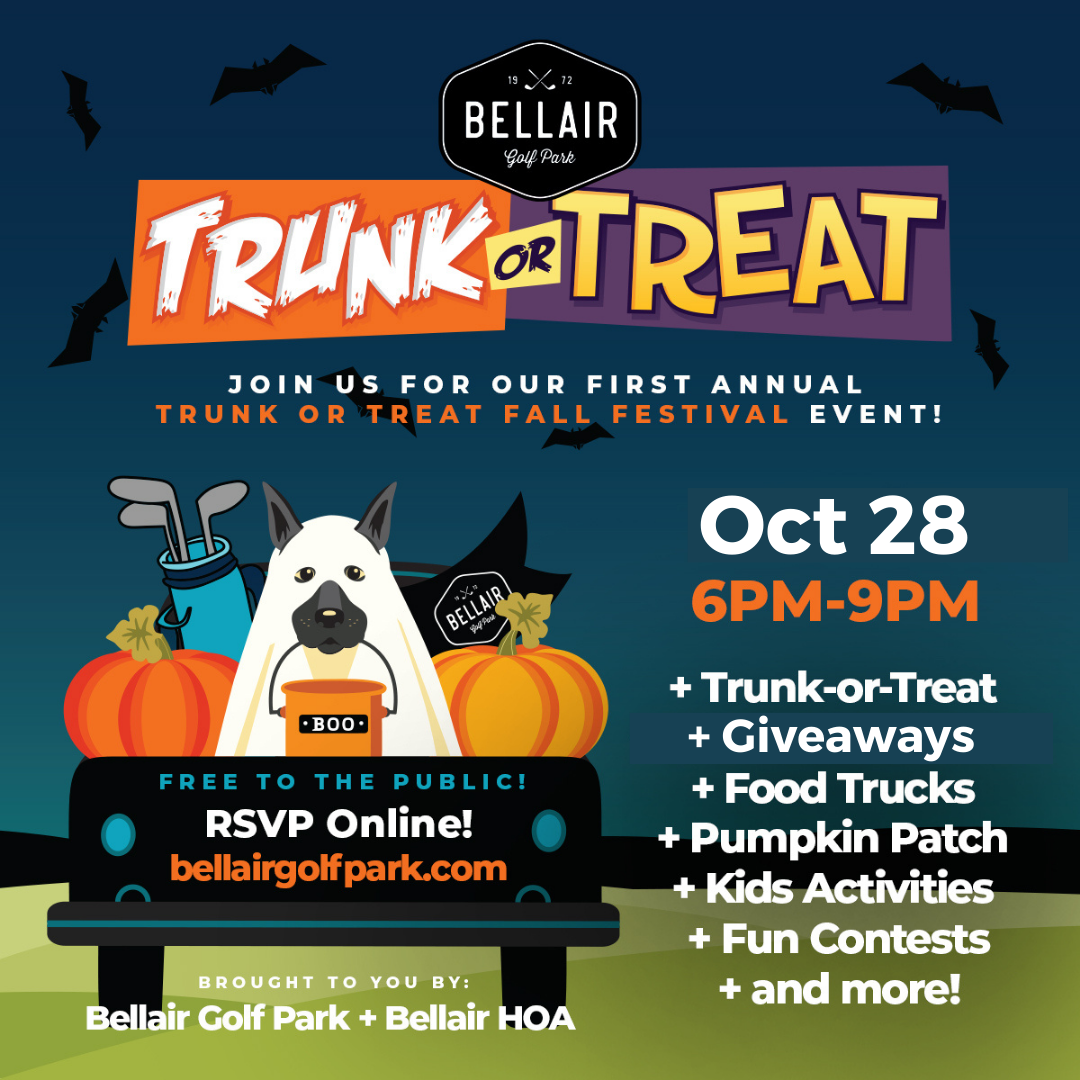 5 THINGS YOU SHOULD KNOW
For Those With Trunk-or-Treat Parking Spots:
We are so excited that you've signed up to join us for Bellair Golf Park's 1st Annual Trunk-or-Treat event on October 29th from 6pm-9pm.
Here are 5 things you should know prior to the event:
You may arrive to setup anytime after 5:30pm!

Dressing up and decorating your trunk is HIGHLY ENCOURAGED! Feel free to go all out with lights, decor, themes, etc. Here are a few Pinterest ideas to get your creative juices flowing: https://www.pinterest.com/search/pins/?q=trunk%20or%20treat&rs=typed
We will award prizes for 1st-3rd place trunks (Gift cards to the patio- $150, $100, $50) so don't be afraid to show your creativity!
Please bring enough candy to supply approximately 700-750+ kids!
Bring your own bucket to distributor the candy if you aren't using your trunk.
When you arrive:
Guests will need to park on the street as there are no parking option in the parking lot.
There will be a shuttle service to assist the guests to and from their cars.
Each car registered for the trunk or treat will have 1 parking spot so make sure your trunk setup stays within the confines of the spot you're designated to.
Trunk-or-Treating info:
Trunk-or-treating will start at 6pm!
You don't need to have a car parked to participate! Since it's our first event like this, we don't know how many kids to expect so please keep this in mind for your candy stash!
More parking will be available along the street and within walking distance of the Park for those just attending the event and not parking in the lot.
During/after trunk-or-treating:
We will have bounce houses and obstacle courses available for the kids to play. You must sign a waiver that night for your children to participate.
A pumpkin patch photo op will be available for fun family pictures.
Create your own jack-o'-lanterns and face painting will also be available.
Fun Halloween-inspired drinks (for both kids and adults!) will be available for purchase at the Mike's Grub Food Truck! You don't want to miss these!!
Food truck options will be available
Night golf will take place on Friday 10/27, just a night before the fall festival.
We are super pumped for this event! If you have any questions, please text or call the Pro Shop at (602) 513-7070 or email play@bellairgolfpark.com.
We are looking forward to seeing you and your awesome TRUNKS & COSTUMES!